We are a family business in Oulu, founded in 2017. Our company's business is Kahvila-Konditoria. Our café is located in Tuira, on the Highway (Tuira Square) and a shop in the market hall. We manufacture our products ourselves, from Finnish raw materials. Our selection includes various pastries, confectionery and breads. We are constantly developing new products. Our mouth-watering seasonal products, such as Runeberg tarts, take your tongue away. Our confectioner Jenni conjures up the most amazing individual special cakes according to the customer's wishes. For example, companies can also order meeting rolls for their events from us. We also manufacture and package our products in the selections of grocery stores.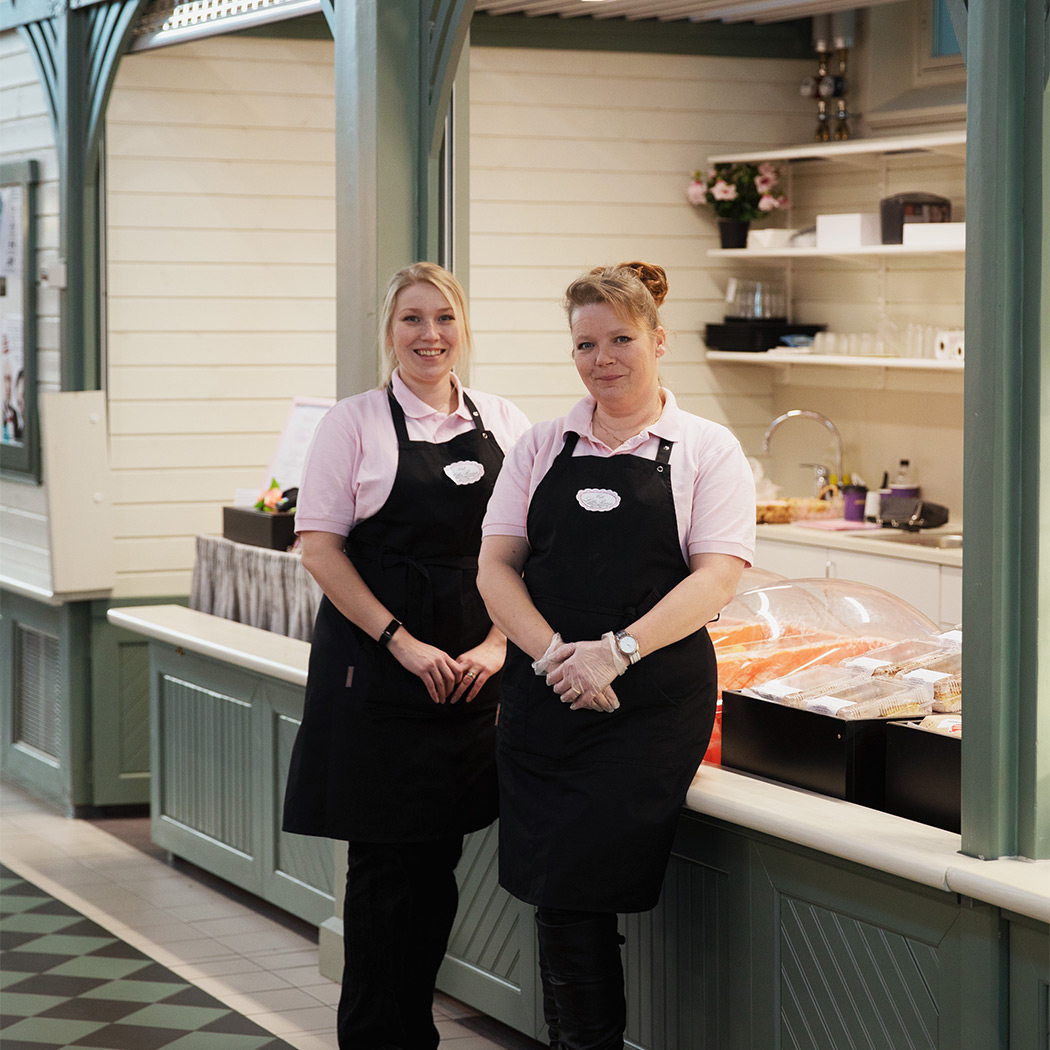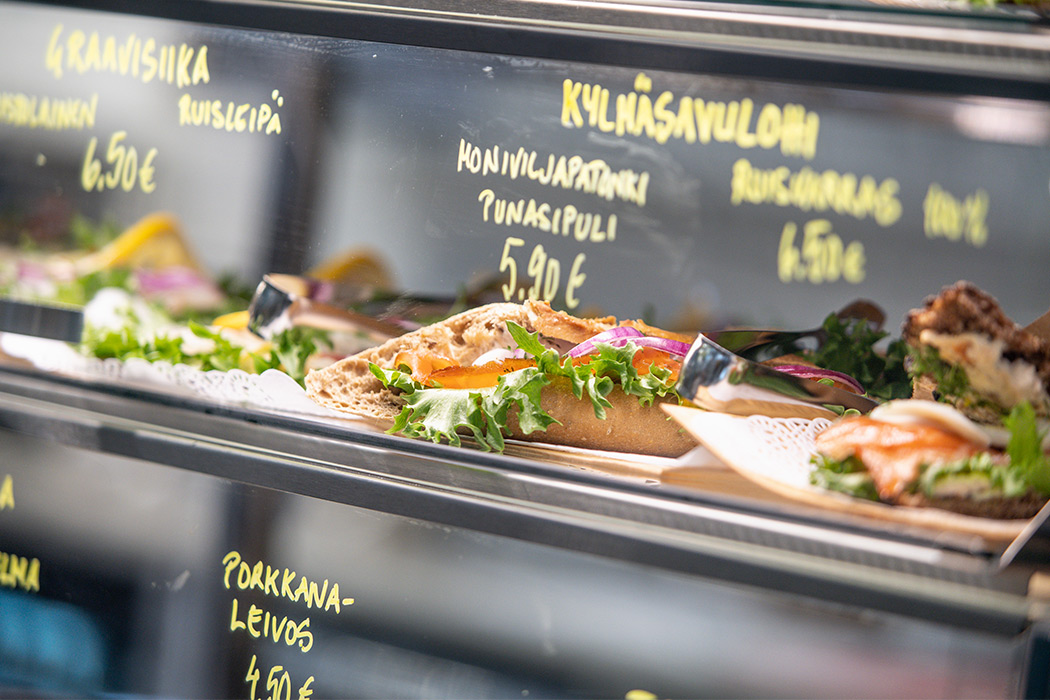 The morning starts with rice porridge and the day goes by with a salmon soup. In our café at the end of Toripollis, you will always be served by our happy salesmen. A-Rights and Specialty Coffee.
EVERY MORNING RICE PORRIDGE WITH SOUP
Includes: bread, butter, water and coffee or tea.
LUNCH € 9.50
Soups include: rye, rye bread, butter, water and coffee or tea.
Mon – Sat salmon soup, Tue and Thu russiypottut, Wed and Fri reindeer soup.
SHOWCASE
products Self-baked backbone and plum donuts and pancake.
CAKES AND PASTRIES
Popular salmon and whitefish breads as well as cold smoked salmon and reindeer bars. Also gluten-free products.
Our bakery shop sells deliciously fresh products from its own stone-baked bakery or can be enjoyed in a nice lodge on site – you can find Hailuoto brewery beers as a button. You will also find wonderful, homemade artisan ice cream from us!
The story began in 2009 when we opened Restaurant Puistola at Pakkahuoneenkatu 15, where the bakery itself is located. From the beginning, it was clear that savory and sweet pastries were baked on site by hand. Our values ​​in both raw materials and service are craftsmanship, quality, locality and northern purity. Above all, we want to bring out the sour root baking and share its rooted good news and enjoyment with everyone!
Bakery OPEN
Mon-Thu 9-17
Fri 8-17
Sat 8-16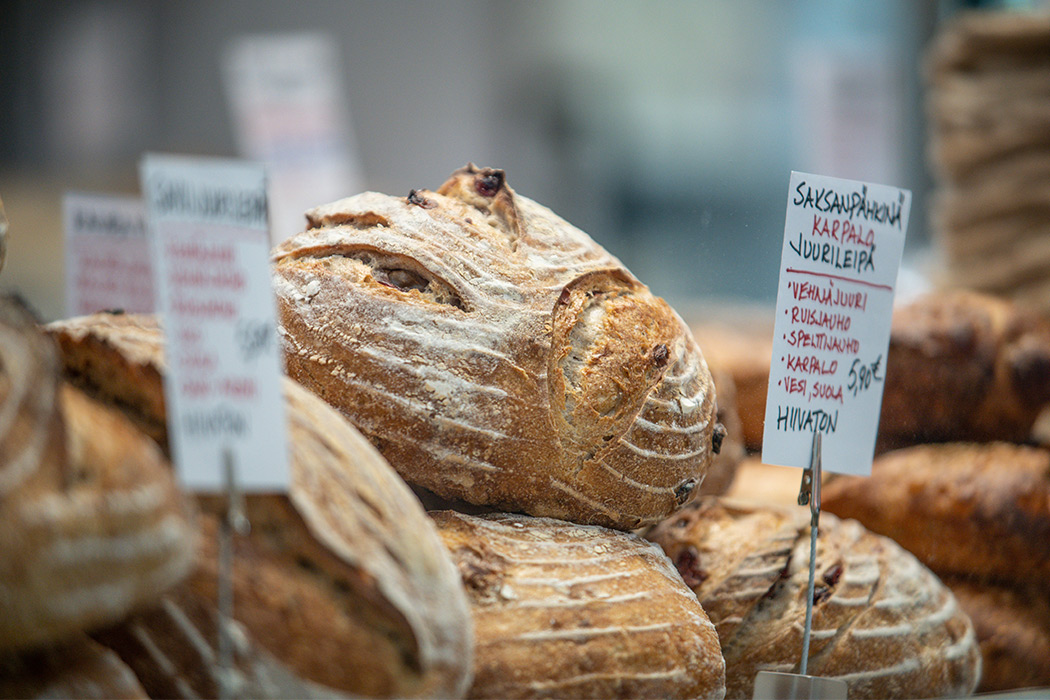 From a delicious home-cooked lunch on the changing lunch menu, as well as fresh on-site donuts, buns, waffles, pastries and savory breads and pies to taste while shopping or taking home.

HOME FOOD AND SOUP LUNCH
Mon-Fri 10: 30-15: 00
Saturday
: 10: 30-14 : 00 Also takeaway / home package.
CAFE, RESTAURANT AND ORDERING SERVICES
Catering, table reservations, meeting supplies , food deliveries, sweet and savory cakes and products.
A new local food delivery service now serves the Oulu region. The goal of Pohjola's local food is to make clean and locally produced food easily accessible to everyone living in the Oulu region. Without unnecessary middlemen, right on your doorstep.
Our selection includes all quality foods, including MEAT, EGGS, BERRIES and VEGETABLES. We'll find out how the facilities work before you include the product in our range so you don't have to bother with that hassle. As criteria, we have an ethical treatment of animals and a good growth environment. In plant products, we prefer pure plant-grown VEGETABLES, VEGETABLES and BERRIES without plant protection products and artificial fertilizers. We also try to favor organic production. By buying local food, you support small producers who operate according to these principles.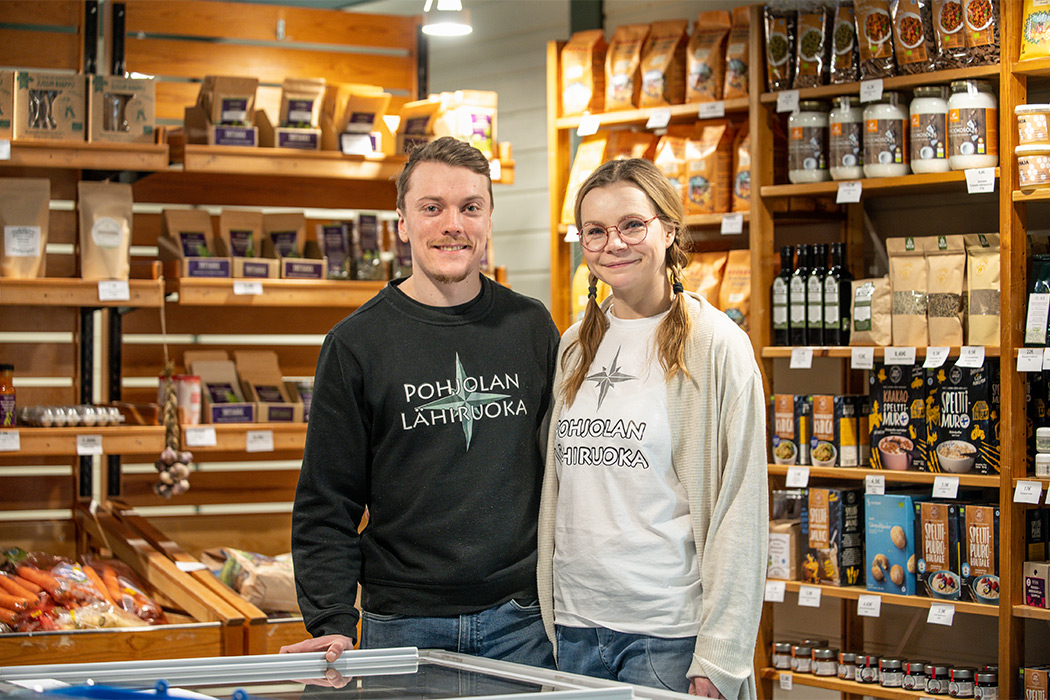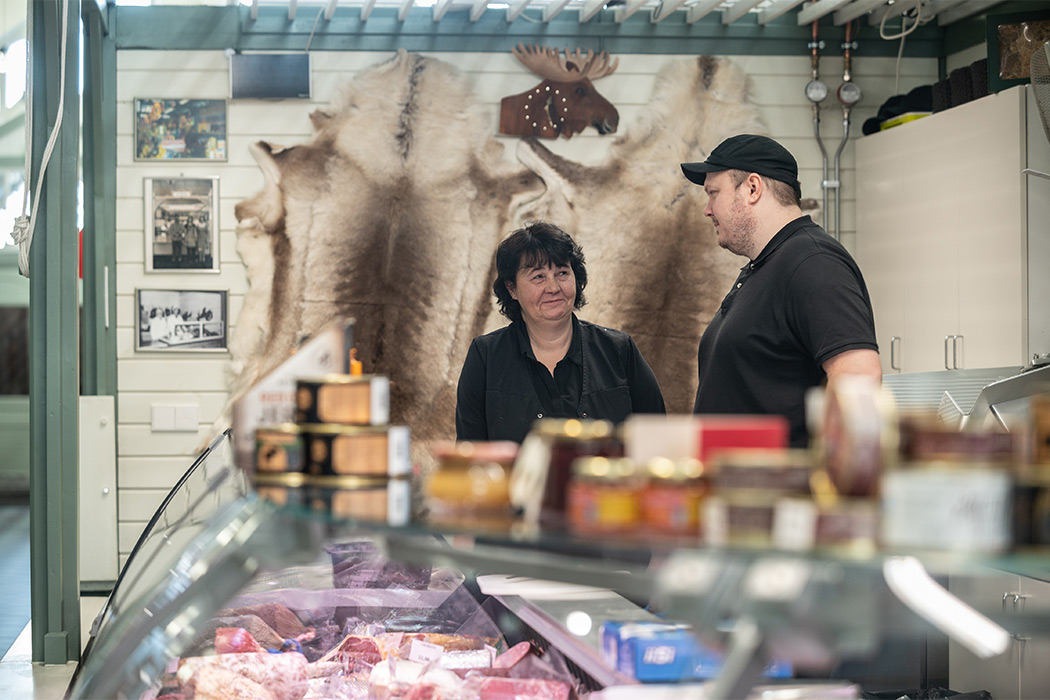 Reindeer and game shop Kylmänen
We are a family business and have been operating in the market hall since the 1930s. Today, Sirpa and Arto are traders.
Reindeer and deer main products and other game meat, birds, etc. Fresh seasonally reindeer and deer and other game meat, such as birds, etc. Available frozen at other times. In addition, traditional domestic meat products and sausages. Reindeer and deer as walks and processed. Meri-Lapland lamb is available fresh all year round.
A novelty in our range is foreign salamis and air-dried hams. Mainly from Italy and Spain, including Germany and Hungary. Serrano air-dried ham from Spain and Parma ham from Italy.
HOME FOOD AND SOUP LUNCH
Mon-Fri 10: 30-15: 00
Saturday
: 10: 30-14 : 00 Also takeaway / home package.
CAFE, RESTAURANT AND ORDERING SERVICES
Catering, table reservations, meeting supplies , food deliveries, sweet and savory cakes and products.
Fish delicacies on every table. A 45-year-old fish trade in the Oulu Market Hall for the third generation.
– Catch fresh fish in the nearby area catchers
– According to Fish processing the customer's wishes
– fresh fish fillets, salmon, trout, perch, pike-perch, trout, whitefish, herring
– Graavi- and cold smoked fish (eg Hailuodon gridiron and Birkala Kalajoki.)
– Delicious fish and crab salads
– Smoke and warp fishes (with different spices, including chili, aura cheese)
– Fish marinades (including shoemaker's
salmon , herring and herring in their own kitchen) – Eggs (whitefish, vendace, rainbow trout)
– Products in their own kitchen (including fish sauce)
– Kaesa's home bakery's fish pie and other pastries
– To order according to the customer's wishes.
See you in the mall!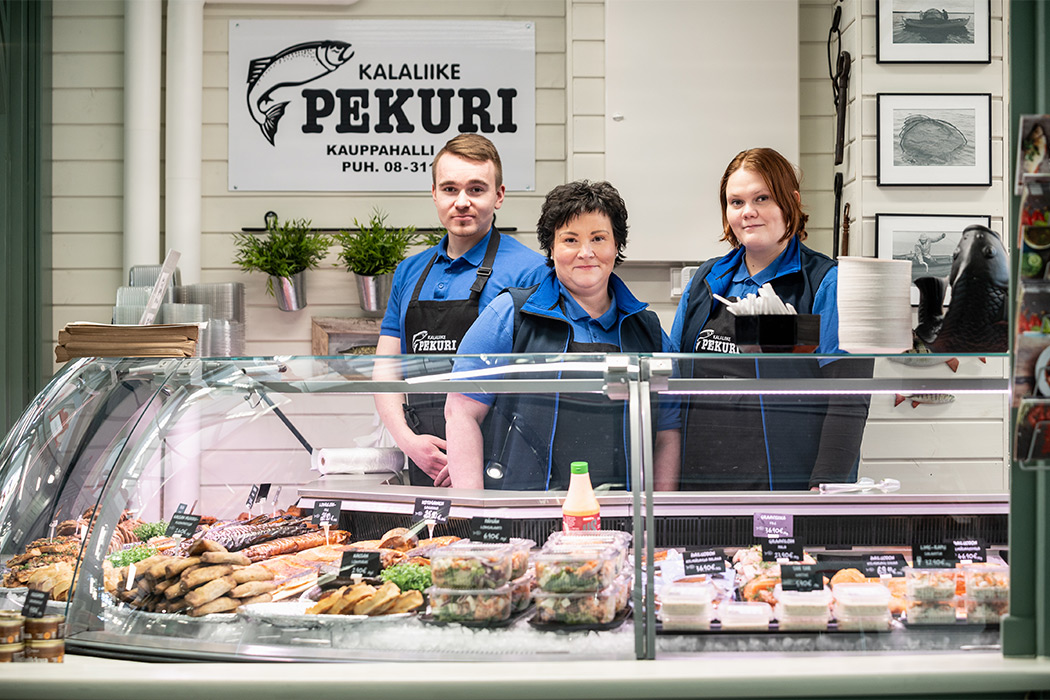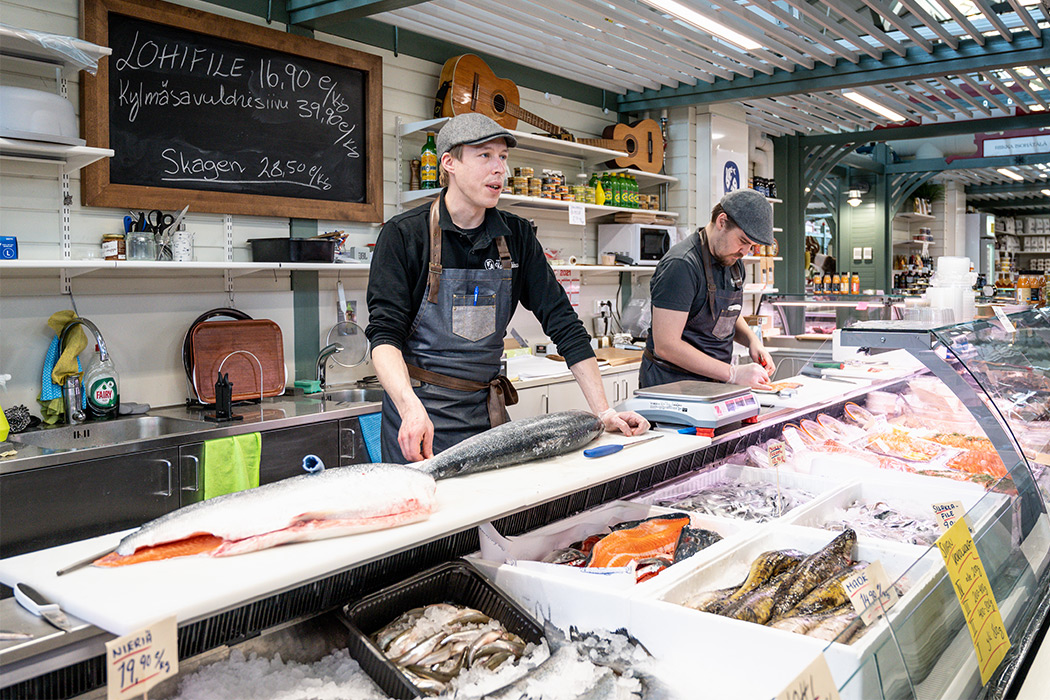 A boutique made up of fresh fish and processed fish and other delicacies from our world.  Cheeses, steaks, spreads, sauces, salads and other take-away dishes are also available.
A place where fresh is fresh and processed & canned delicious.  We consider the entire supply chain from an ecological and ethical perspective. Choose the best for yourself: perch, roach, salmon, trout, pike, pikeperch, whitefish, tench, vendace, bream, herring, herring, etc. Our selection always includes organic roach fish, minced, canned or ready-made.  Here you will find a guaranteed fish or piece for everyone!
Fresh fish comes from nearby fishermen as well as from local merchants, whole or gutted, from which we make fillets, graves, steaks, smoke-charcoal warp fish, ready-made dishes and much more.
Welcome to the shops or taste!
Marketing and digital agency Wolf Team offers a wide range of services, from websites development to social media marketing, to help you grow your business. We are a small team of specialists who have the resources to create bold campaigns and design stunning logos. Our approach is aggressive and strategic and we welcome all challenges.
We'll make sure your business has marketing that will work for your online presence.

We offer website design and SEO services to make sure you have a solid online presence.

Develop a marketing strategy that will support your business goals.
GIFT SHOP
Crafts, souvenirs, gifts from Oulu. Magnets & reflectors for your market. Northern themed t-shirts & hoodies, bags, slippers, home textiles, wood products, reindeer bone products. Seasonally changing products e.g. Valentine's Day, Mother's Day and Christmas.
You can also get real badgers from us with custom fireworks, such as a bear, deer or your own logo. Handmade knives, sticky sausage sticks and other wooden products with name burning while waiting and free of charge.
DELICACIES AS A GIFT OR FOR YOURSELF!
Oulu handmade chocolate, specialty coffee and tea, tar pancakes and reindeer peppers.
BRANDS
We are e.g. Sola Soap, Veico, Woodjewel, Shaman Design, Metropolis Oulu by Jussi Lahtinen, Chocosomnia, Vilippus, Osmia, Ester Visual, Finlandia jewelry retailer.
Welcome and bring your guests!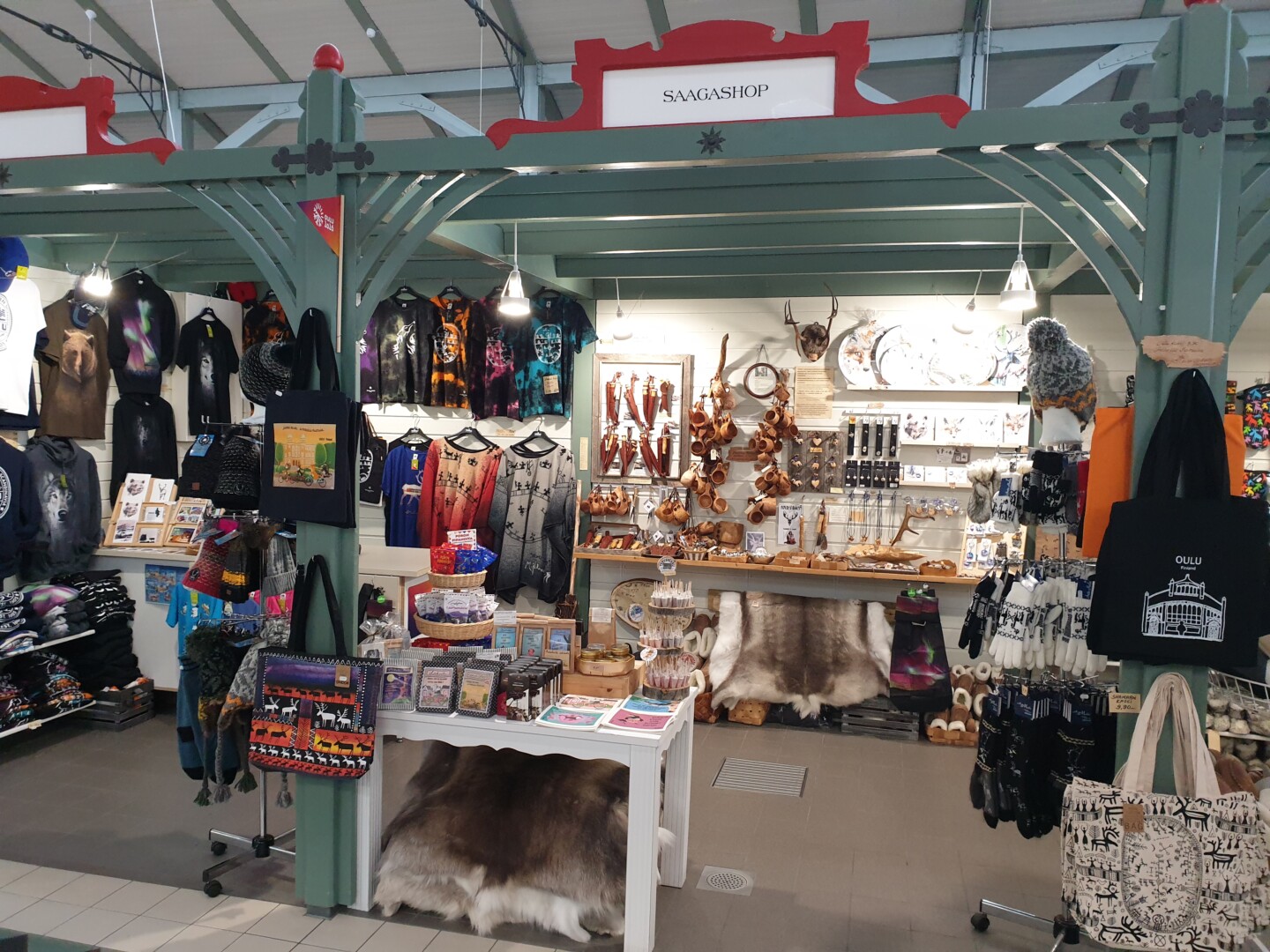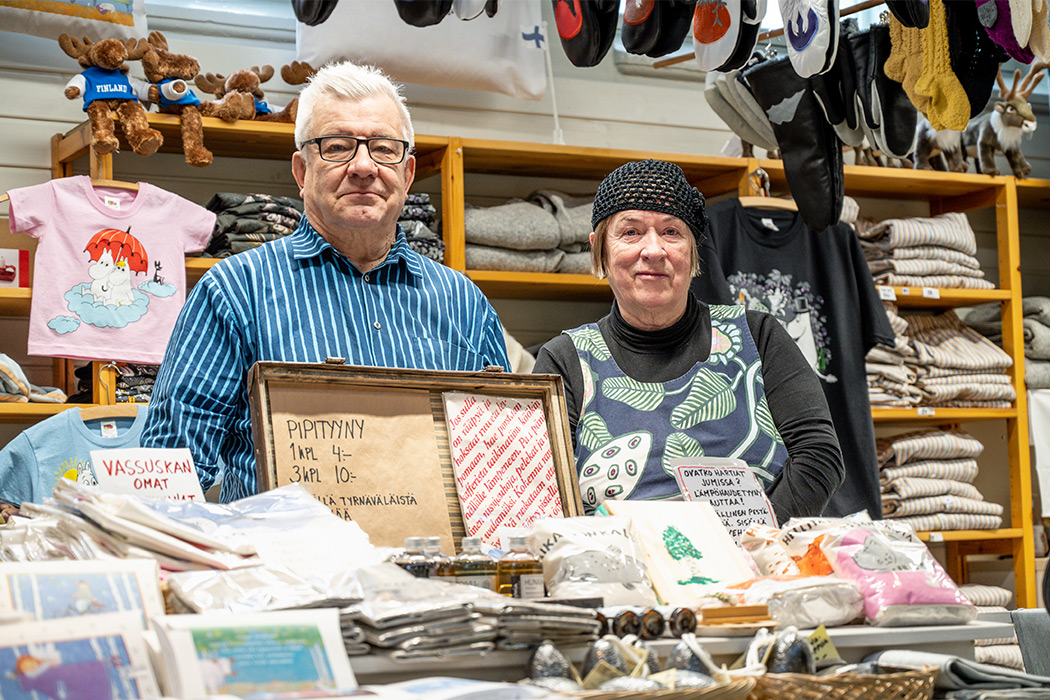 Vassuska, that little boutique in the Oulu market hall, has been wrapping packages for 40 years. Some of the products for sale are self-made and some are ordered from nearby handicrafts .
Our selection includes only durable, beautiful, personal and natural products, for example:
flanellinen traditional brainstorming Shirt | sweaters and trousers hand – woven socks and mittens hand felt ear flaps hand – printed pillowcases, bathrobes and pillowcases high quality sauna products, seat covers, tar and peat soaps Oulu products
Here we are. A warm hug to all our old and new customers!
TT-Neule serves at the end of Toripollisi, next to Kauppahalli Café. Lovely products for your own weaving mill. We make various felted products by hand with more than 40 years of experience and professionalism. Our selection also includes products made by ourselves from wool and cotton.
From us you will receive unique gifts and gifts for both everyday and festive occasions. Welcome to our diverse selection of handicrafts!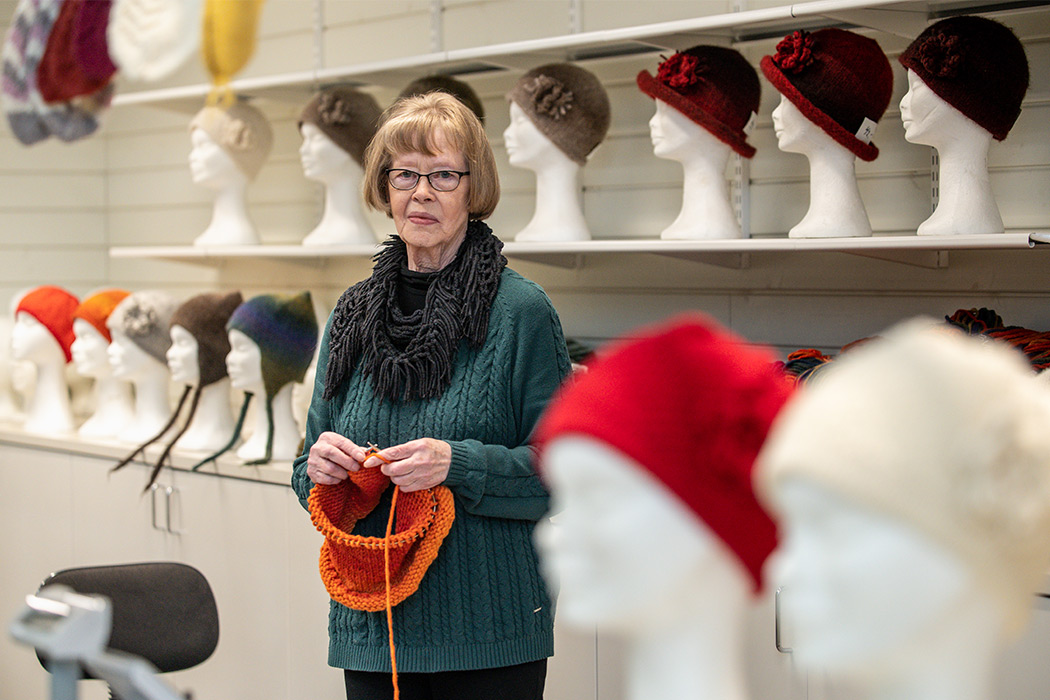 The Ruoveden Herku store was opened in the Kauppahalli with its renovation. Our products are familiar to many from the market and trade fairs.
Cognac mustard has been the bow of Ruovesi's Delicacy for a long time. As operations have developed, the product range has also expanded. Our selection includes mayonnaise, cucumber salad, marinated garlic cloves, salad dressings and spices for many tastes. You can find the entire selection on our website ruovedenherkku.fi
All products are made in Pirkanmaa, Jäminkipohja, by hand from high-quality raw materials.
Vegetable trade R. Hyväri
Vegetable store Riikka Hyvär's entrepreneur Riikka Isohätälä will be 22 years old as an entrepreneur. In addition to the Kauppahalli store, we also operate in the Oulu market in the summer and well into the autumn. Our selection is wide and varied, our goal is to sell good fresh local food in the spirit of cheerful and good service. We prefer local operators and small producers. 
In our selection you will find vegetables, berries, fresh and dried mushrooms, juices, jams, jellies, Oulu chocolates, teas, spices, nearby flour, small producers' honeys, organic eggs and other delicacies all year round. Organic vegetables, Vegetable salads and mayonnaise are also available in the largest batches. The berries are available both fresh and frozen.
We strive to provide customers with the best vegetables and berries of the harvest season. The excellence and freshness of the raw materials are important to us. Our company is known for its high quality products. 
You can also order the products from us pre-assembled and we can deliver the products out if you wish. Organic vegetables can also be ordered in advance. Orders can be called Riikka Isohätälä, tel. 040-5227112. 
In summer and autumn, we also serve Oulu Market Square from 7.00. Welcome to us safely!